Description
Islamabad Medical and Surgical Hospital (IMSH) is a leading healthcare facility located in Islamabad, Pakistan. With a focus on providing comprehensive medical services, state-of-the-art facilities, and a patient-centred approach, IMSH has emerged as a trusted name in the healthcare industry. The hospital commits to delivering high-quality care, employing advanced medical technology, and attracting a team of skilled healthcare professionals to ensure the well-being of its patients.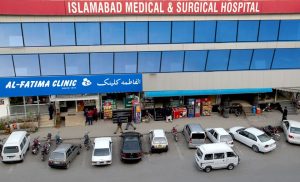 State-of-the-Art Facilities:
Islamabad Medical and Surgical Hospital Islamabad is equipped with modern and cutting-edge facilities to meet the healthcare needs of its patients. The hospital boasts well-equipped operation theatres, advanced diagnostic imaging technology, and state-of-the-art laboratory services. These facilities enable accurate diagnoses, efficient treatments, and optimal patient outcomes.
The hospital also prioritizes patient comfort and convenience. The spacious and well-designed patient rooms provide a calming environment for recovery, while the waiting areas are comfortable and accommodating for patients and their families. IMSH ensures a safe and hygienic environment by adhering to strict infection control protocols, thus promoting patient well-being.
Medical Expertise and Specialties:
At IMSH Islamabad, a team of highly skilled and experienced medical professionals is dedicated to delivering exceptional healthcare services. The hospital attracts renowned physicians, surgeons, nurses, and technicians across various specialities. The medical staff undergoes rigorous selection processes, ensuring that patients receive the best possible care.
IMSH offers a wide range of medical specialities, including cardiology, orthopaedics, neurology, gastroenterology, obstetrics and gynaecology, paediatrics, and general surgery, among others. The multidisciplinary approach encourages collaboration among different departments, facilitating comprehensive and personalized care for patients.
Patient-Centred Approach:
Islamabad Medical and Surgical Hospital places great emphasis on patient-centred care. The hospital commits to understanding and addressing the unique needs of each patient. The healthcare team fosters a compassionate and empathetic approach, ensuring that patients feel supported and involved in their treatment plans.
Effective communication is prioritized at IMSH. Healthcare professionals take the time to listen to patients, answer their questions, and provide detailed explanations about their conditions and treatment options. This open and transparent approach helps build trust and confidence between patients and their healthcare providers.
Quality and Accreditation of IMSH:
IMSH is dedicated to maintaining high standards of quality in healthcare delivery. The hospital adheres to international protocols and guidelines, continuously monitoring and improving its performance through quality assurance programs. IMSH has obtained accreditations from reputable organizations, reflecting its commitment to excellence and patient safety.
Additionally, the hospital regularly conducts audits and assessments to identify areas for improvement and implement measures to enhance patient care. IMSH's commitment to quality is evident in all aspects of its operations. From the professionalism of its staff to the efficiency of administrative processes and the delivery of medical services.
Community Engagement and Outreach of Islamabad Medical and Surgical Hospital:
IMSH actively engages with the community, recognizing its role as a responsible healthcare institution. The hospital organizes health awareness campaigns, medical camps, and educational initiatives to promote preventive healthcare and raise awareness about prevalent health issues. IMSH collaborates with local organizations, schools, and colleges to contribute to the overall well-being of the community.
Conclusion:
IMSH is a premier healthcare facility in Islamabad that is committed to providing exceptional medical services with a patient-centred approach. Furthermore, with its state-of-the-art facilities, highly skilled medical professionals, commitment to quality, and community engagement initiatives, the hospital has established itself as a centre of excellence in healthcare. Although, IMSH aims to make a positive impact on the lives of patients and the community by ensuring access to high-quality healthcare services and fostering a culture of wellness.